The Lions Martian Race on Sunday 26th June 2022, is a 5k, 10k or 21k race through the shaded woodland of Horsell Common near Woking, Surrey.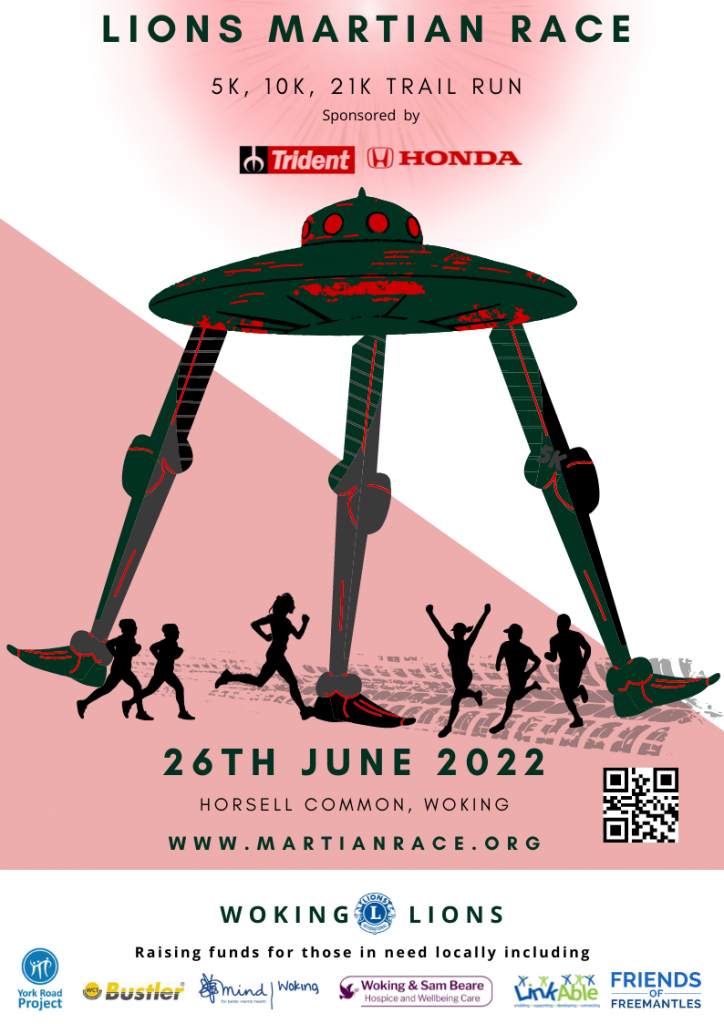 The race is organised completely by volunteers and all proceeds are distributed to local charities that are carefully selected by the Woking Lions. Over £10,000 was given to local charities from money raised from our last run. Next year we would like to surpass that. When you register for our race you will directly benefit local charities.
The sandpits on Horsell Common are famously the site where the Martians first landed in H.G. Wells novel The War of the Worlds. Our race is in it's fifth year and the route always goes through the historic sandpits we have chosen this as our theme and the name for the event.
Horsell Common is privately owned common land with public access. Almost half of the common is designated as a Site of Special Scientific Interest (SSSI). We are very privileged to be able to run on the common and take our environmental responsibilities very seriously. The routes are chosen to respect the flora and fauna that live there and we strive to minimise our impact. Our races are always litter free and this year we have pledged to be free of single-use plastics.
When
Sunday 26th June 2022 at 9 a.m.
Where
Horsell Common, Woking. The start and finish will be in McLaren park with parking at Fairoaks Airport. A free shuttle bus service will be available from Woking railway station (subject to covid safety measures).
Please consider leaving your car at home. Share a ride with someone or cycle, or walk or use our free shuttle bus. Parking spaces are limited and cars pollute our beautiful countryside.
The Race
A choice of 5k, 10k or 21k distances through the heathland of Horsell Common. The route is flat with a mixture of shaded woodland, heathland, the famous sandpits and grassy meadows. The 5k and 10k routes are a single lap, the 21k is two laps.
There run will at 09:00. For runners of the 21k route, the cut-off time for completion of the first lap will be 10:30. The cut-off time for the finish of all distances will be 12:00.
All finishers will be awarded a custom designer medal and there will be cash prizes for the winners.
Watch a video of the Horsell Runners running club as they do a recce of the route used in 2019 event:
Prices
Early
bird
From 1st
Feb 2022
From 1st May 2022
5k

£14

£16

£18
10k

£19

£21

£23
21k

£29

£32

£35
Prices include VAT but exclude on-line registration and card processing fees. Terms and conditions apply.

You will get small discount on these prices if you do not intend to travel by car
Registration is subject to our Terms and Conditions.
Sponsors
The Lions Martian Race is proudly sponsored by:
The Lions Martian Race is also supported by:
Prizes
As well as a fabulous medal we will be awarding over £500 in cash prizes for the 1st, 2nd and 3rd placed male and female runners in each of the three distances.
| Male / Female | 21k | 10k | 5k |
| --- | --- | --- | --- |
| Winner | £75 | £50 | £25 |
| 2nd Place | £50 | £25 | £15 |
| 3rd Place | £25 | £15 | £10 |
Prizes will be presented at the event village straight after the end of each event. The prize giving for the 5k will be at 09:40am. For the 10k it will be at 10:00am, and for the 21k it will be at 10:45am.
Feature checklist
Medal for all finishers
On-line registration
Chip timing
First aid
Toilets
Secure bag storage
Water stations
Prizes
Parking
Free shuttle bus from Woking station
Trail shoes recommended
Flat
Traffic free
Single-use plastic free event
100% volunteer organised
All proceeds are distributed by the Woking Lions to selected charities